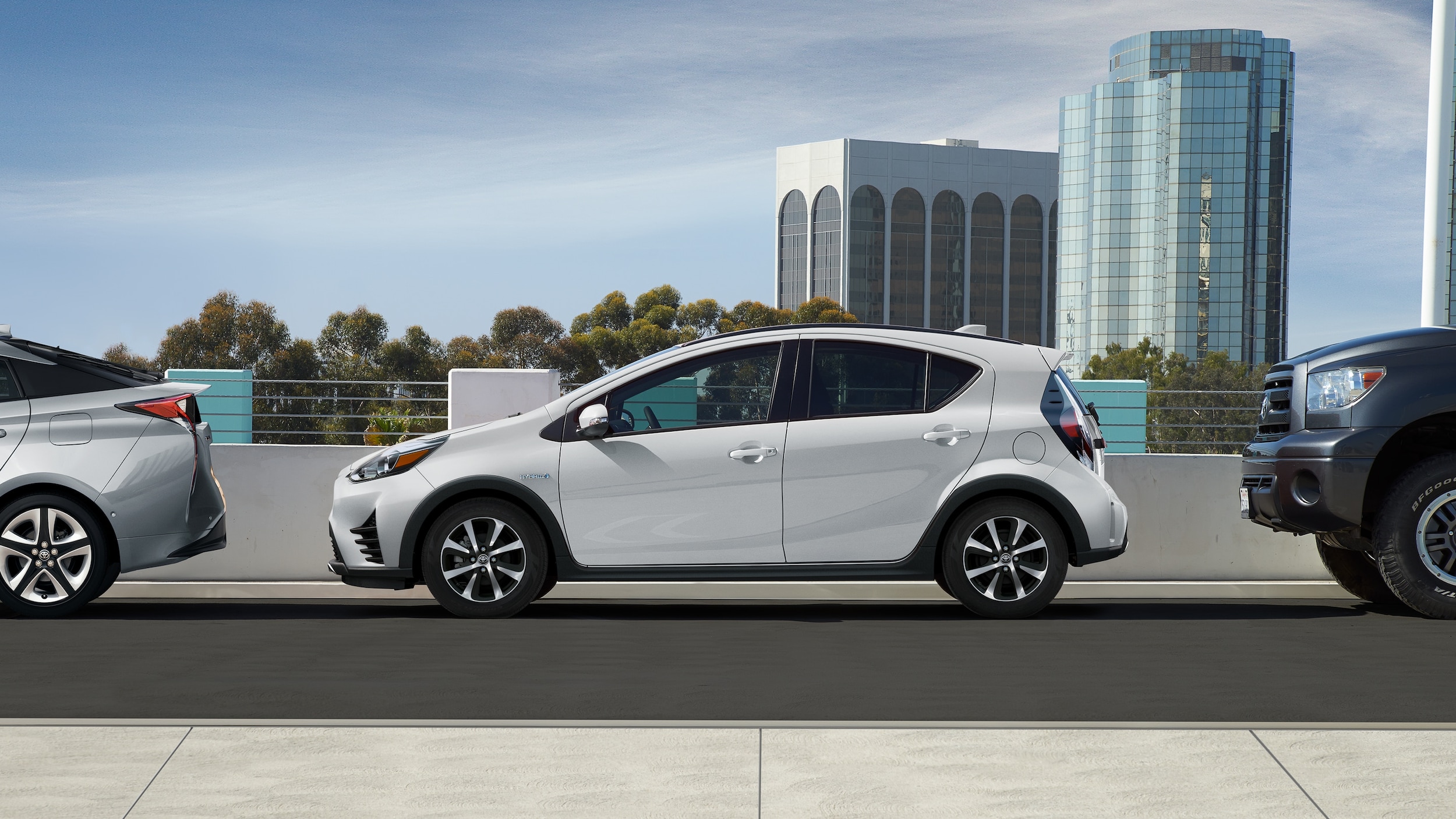 The Prius c is a hybrid that looks kind of like a tiny SUV. It manages to pull off both a cute and sporty look. 
If you're in the market for a small hybrid, put the 2019 Prius c on your list of cars to test drive. 
View our selection of the 2019 Toyota Prius c
There are two grades of the 2019 Prius c, L and LE. Pricing starts at $21,530. 
As a hybrid, the Prius c gets its power from both a 1.5L Aluminum DOHC gasoline engine and electric motor. Those both work with a Continuously Variable Transaxle, a nickel-metal hydride battery, a power control unit (inverter), a DC-DC converter and a step-up converter. 
This hybrid technology provides 48 city / 43 highway MPG. 
The hybrid system includes EV and ECO driving modes. EV Mode enables electric driving for up to a half a mile and ECO Mode limits the operation of the climate control function and adjusts the throttle input to help maximize fuel economy so you can make the most of each mile.
The 2019 Prius c also has an energy monitor so you can learn how to optimize efficiency. The energy monitor screen displays how the hybrid system works in real time and shows how to utilize the most efficient source of power.
Going back to the sporty look we mentioned earlier, that's achieved with the front and rear silver portions that mimic skid plates as well as sweeping headlights and 15-inch, 8-spoke wheels. 
Punchy exterior colors like Tide Pool Pearl, Tangerine Splash Pearl and Absolutely Red give the 2019 Prius c extra attitude. 
The interior of the Prius c looks just as stylish as the exterior. Two-tone blue and black fabric seats are available, and you can enjoy an available moonroof and choice of Entune Audio system with integrated backup camera. 
Liking the sound of the 2019 Prius c? Fill out our contact form the right for more information, or get directions to the dealership and we'll get the keys ready for you to take a spin!
We'd love to put you in a 2019 Prius c or other new Toyota today at Steve Landers Toyota in Little Rock!