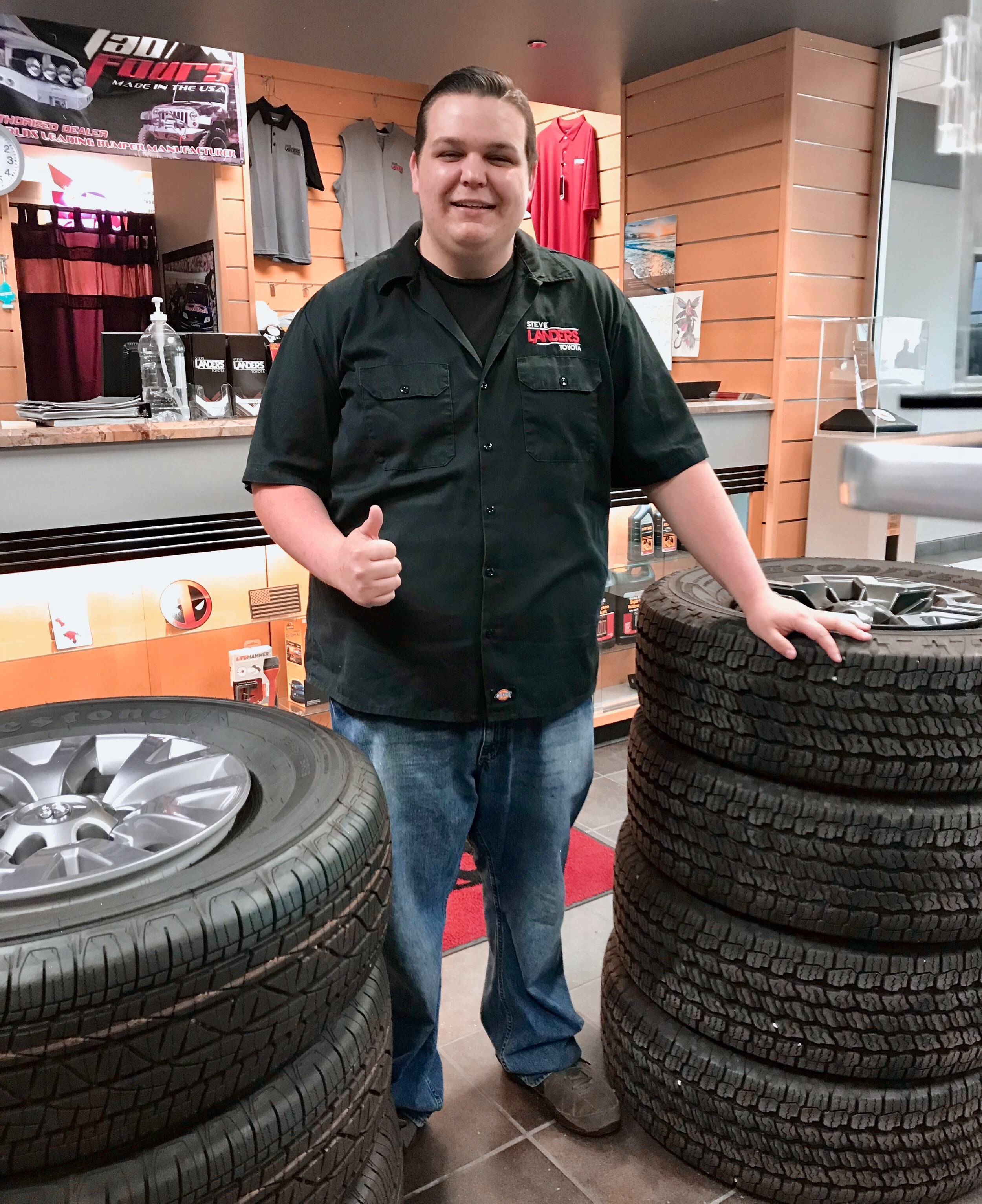 Clifford Glover loves classic Toyota vehicles.
"My favorite thing is dealing with old vehicles," Glover said "I love old school Toyotas and the old school Land Cruiser is a cool one. I love the 1990 Previa because it looked like a school bus. It's awesome."
Glover is a parts and accessories advisor at Steve Landers Toyota and he works on the retail side of the department, mainly dealing with customers. He's been at the dealership since Aug. 13, 2012, when he was 18-years-old. He started as a delivery driver and moved to parts two years ago.
"Starting out, I didn't know much about vehicles and I wanted to learn as much as possible about tire sizes, wheel sizes and the weird stuff that's not so common," Glover said.
His absolute favorite Toyota? It's an interesting one.
"My favorite is probably the Tercel," Glover said. "It's such a turd and it's awesome. I love weird things."
As well as selling parts and accessories to customers, Glover and a few other parts and accessories employees create special builds of Toyota vehicles. They will add parts and accessories to Tundras, Tacomas and 4Runners to create unique versions of those vehicles.
"It started with the guy before me," Glover said. "I took Aaron Martin's job and it started from us wanting to put our own brand on something."
The guys who started creating these special builds came up with STX4 as the name for the unique package.
"STX4 stands for Steve Landers Extreme 4x4," Glover said. "It's our own brand. The reason we did that is to make our own version of trucks. On some, we do fender flares, on some we don't. We do different wheels and try to make it look good for each individual person."
There are two types of truck builds the parts and accessories department does. They will do a commission when a customer comes in requesting parts and accessories for their vehicle, and they'll work together to create a build with a type of potential buyer in mind.
"One of those two scenarios is a lot build," Glover said. "We use the ideas of our managers and we all group together to build a truck that looks really good. The other scenario is we make a dream a reality. Customers will come up here with a basic idea and we show them what we can do and we try to turn their idea into real life."
Glover's favorite build to create was the first "murdered-out" 2017 Tacoma they did.
"It was something they let me do all on my own," he said. "Murdered out means everything is black. Black lift, wheels, tires, everything. It sold within the first day.
"It was pretty cool in the sense that I'm 23-years-old and I'm at the point where this company gives me a whole lot of responsibility. I'm really proud of how much respect they give me in the sense of how much free rein I get because they trust me. It's a big deal to me."
Dealing with customers in any way, whether that's helping find the right part, or building a special version of a truck, is what Glover truly loves about his job.
"I've learned it doesn't really matter what kind of lifestyle you come from," he said. "Everybody's the same and it just takes that one thing to connect with someone. There are always so many different types of people that come up here and it's awesome to meet all the different personalities. In the end, we're all just people who really enjoy Toyotas and our customers want to have nice-looking vehicles."