What has long been known by Toyota truck drivers is now pretty much taken as fact: Toyota vehicles can't die.
Allyn Pierce, manager of an ICU at a hospital in Paradise, Calif., risked his Toyota Tundra TRD Off-Road and his life to save people not once, but twice, to get people from his hospital's ICU to safety during the California wildfires earlier the month. His Tundra looks more like a marshmallow, but it was still working after, even though it was kind of melted.
Pierce created @the_pandra in early 2017, an Instagram account dedicated to his adventures in and upgrades to his Tundra of the same name, which replaced his Tacoma. There are a few shots of his adorable dog Wade too. Naturally, he shared his story on his account and it went viral.
"Here's my @toyotausa commercial," he said in his original post. "This truck literally saved my life today. My little town of Paradise was literally burning down around me and @the_pandra got me to safety where I could help others…twice."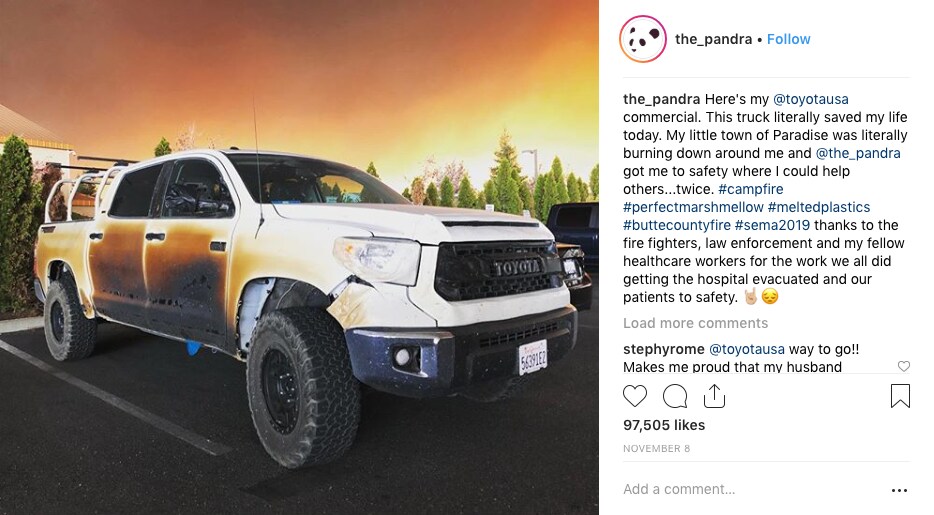 Well, Toyota USA saw this and naturally offered to replace his Tundra for free.
"Hi Allyn, we are humbled you'd risk you life and Toyota Tundra to drive people to safety," the automaker said in a comment on his post. "Don't worry about your truck, we're honored to get you a new one!"

Toyota delivered on that promise and Pierce is calling his 2018 Tundra TRD Pro Pandra 2.0.
Another example of Toyota's Superman-like strength? The guys from Top Gear tried their hardest to kill a Hilux truck in 2010, and couldn't. Jeremy Clarkson submerged it in the ocean for hours, ran it through a shed, dropped a camper on it, hit it with a wrecking ball a handful of times and finally set it on fire. All to no avail!
On another episode, the Hilux was then set it atop a 23-story building, 240 feet above the ground, before the building was demolished with explosives.
It was barely recognizable after that, but they got it running!
It's no surprise Pierce's Tundra held up through the blaze!
Learn more about Pierce's heroics here.
View our Toyota Tundra inventory here if you're looking for a new truck. New or used, it's clearly a good investment.
Photos: Allyn Pierce/Instagram