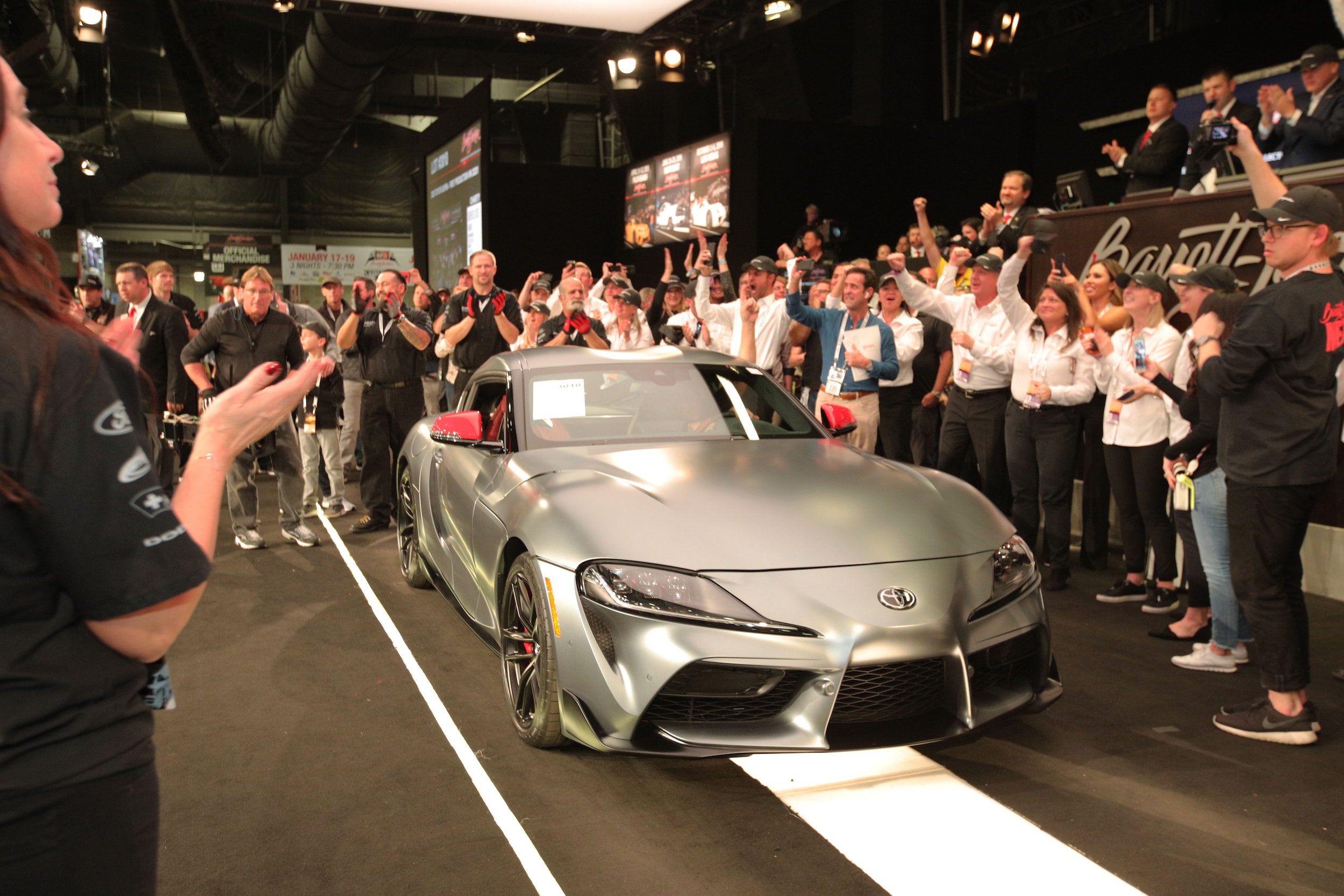 Read this in the voice of Dr. Evil from Austin Powers: $2.1 million dollars!
That's how much the first production 2020 Toyota GR Supra went for at the 48th Annual Barrett-Jackson Auction at WestWorld in Scottsdale, Ariz on Jan. 19.
"We did the first production 2020 GR Supra justice tonight at Barrett-Jackson," Executive VP of Sales for Toyota North America Bob Carter said in a statement. "When Toyota launches a vehicle of this caliber, you only get one chance to do it right — and this auction was the perfect setting. After 20 years, this marks the return of a legend. Sports car enthusiasts have been dreaming to slide behind the wheel of an all-new Supra — and we're happy to be a part of turning that dream into a reality."
In addition to the Supra, the highest bidder was given a full VIP race track experience, which includes a custom profession racing suit, two VIP and hot passes to TOYOTA OWNERS 400 Richmond Raceway and a chance to drive the car and do laps with Michael Waltrip.
The Supra, which is called "Global #1," has a VIN that ends in 20201 as 2020 represents the year the Supra was reproduced and 1 signifies it as the first vehicle to come off the production line. This particular Supra is unique to any other that will be produced because it has matte gray exterior with red mirror caps and matte black wheels. The interior is red with carbon-fiber inserts.
The proceeds from the auction went to the American Heart Association and the Bob Woodruff Foundation.
"The incredible excitement of the Supra rolling across the block was felt by everyone in the arena," Barrett-Jackson Chairman and CEO Craig Jackson said. "This was a moment that was 20 years in the marking. More importantly, we're thrilled to have joined with Toyota in their efforts to raise funds in the fight against heart disease and stroke, we well as support our nation's military veterans."