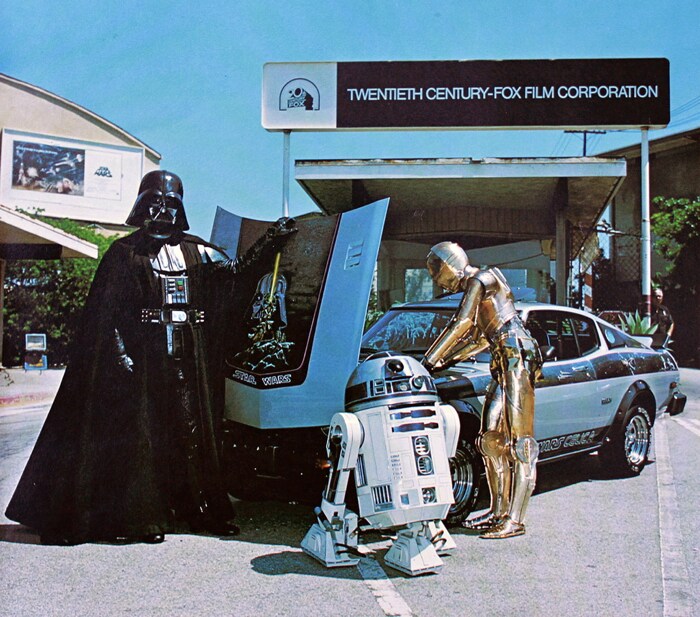 About 42 years ago, in a galaxy not too far away, there was a special Star Wars edition of the 1977 Toyota Celica Liftback GT. Toyota joined forces with 20th Century Fox, the studio that produced a little film called Star Wars, to help promote it.
Star Wars Space Fantasy Sweepstakes was giving the Celica away as the grand prize, along with other Star Wars-themed prizes. The sweepstakes began in September 1977 and ran through the end of the year.
The Celica has hand-painted artwork from A New Hope, including the movie posters on the hood, a space battle and characters from the series. The car also features an upgraded body kit, moonroof, custom wheels and tires and special upholstery.
Apparently, the Celica was delivered to 20th Century Fox at the end of the sweepstakes, photos were taken and then the car was delivered to the winner. According to multiple outlets, though, there's no record of the winner or the Celica's Vehicle Identification Number. It disappeared shortly after.
Delphi Auto Designs painted the car, but was then hit with controversy as former employee Steve Bovan was murdered. There were other accusations of crimes committed by people connected to the company and it folded soon after.
The Celica was featured on the cover of the October 1977 issue of Toyota Today, an internal publication for Toyota dealers, alongside Darth Vader, R2-D2 and C-3PO.
According to a story on Car and Driver published nearly a year ago, Steve Sansweet, a former Lucasfilm employee and CEO of non-profit Rancho Obi-Wan, saw it advertised in Antique Toy World Magazine.
"Sometime around the late 1980s or early 1990s I was reading my monthly issue when my eye was drawn to a small black and white ad at the bottom of a page," Sansweet said. "There it was — the Star Wars Toyota — being offered up for sale by the original owner, who said it was in great shape. Here's the killer: the asking price was just $1,000. I remember being transfixed and started thinking how I could possibly buy this primo piece of promo history."
That was the last time it was seen. Fans have been searching for it for years but to no avail. Do you know anything about the missing Star Wars Celica? Let us know!