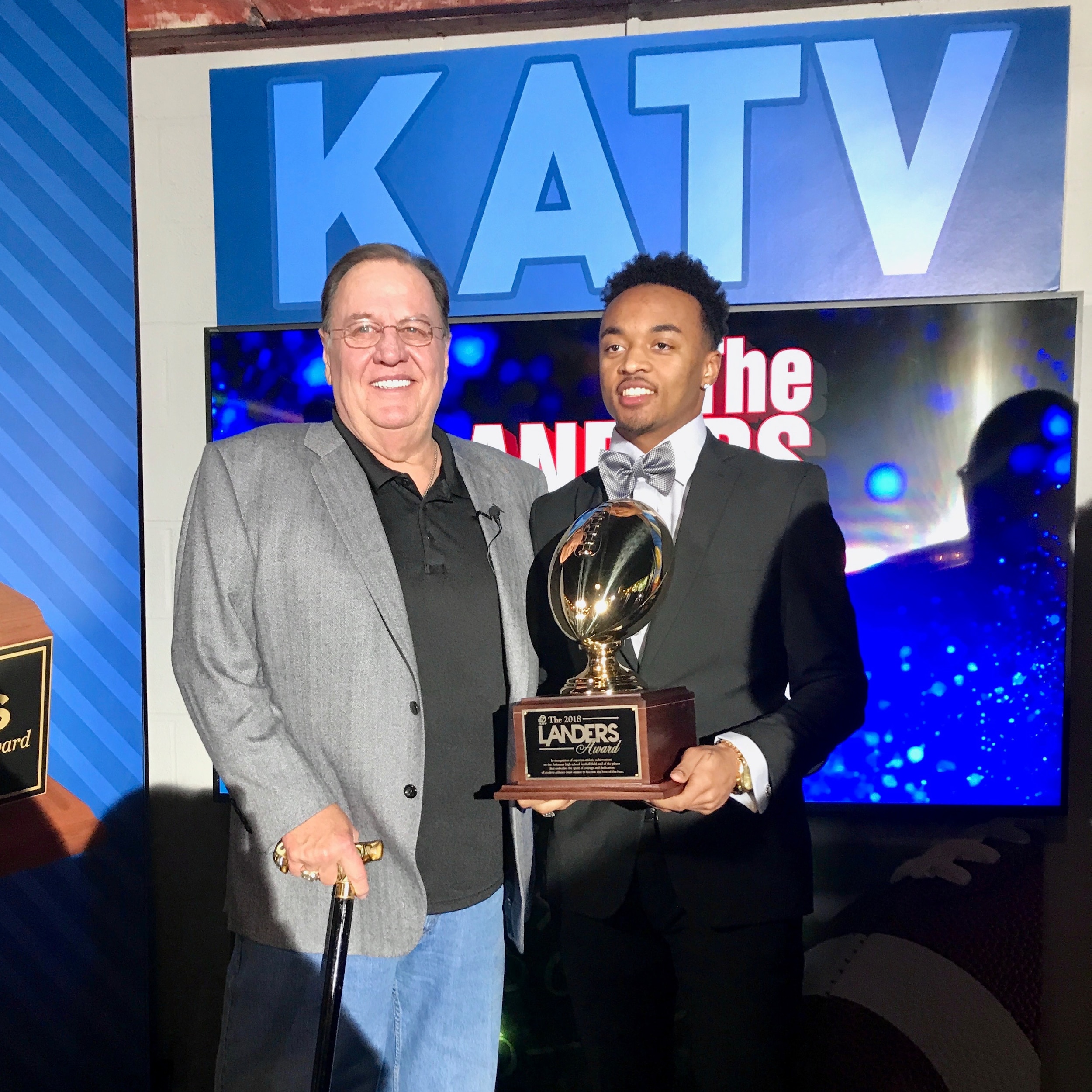 Justice Hill, a senior quarterback from Little Rock Christian, is the most recent winner of the Landers Award, an honor that has now become known as the "Heisman of Arkansas High School Football."
Hill was announced the winner of the 2018 Landers Award on Jan. 16 during a special 30-minute live broadcast on KATV Channel 7.
Before the broadcast began, Steve Landers had a few words of wisdom for the players.
"You're the top 13 in the state," Landers said. "Win or lose tonight, you're winners."
Hill, who will be playing basketball at the University of Arkansas, was given a trophy and special Jostens ring. Additionally, a $3,000 college scholarship will be awarded to another football player at his high school in his honor.
All 13 of the players nominated for this year's award were named a Landers Player of the Week during the 2018 football season. Arkansas broadcasters and reporters then voted for who they felt deserved the award.
The other 12 nominees are:
• Hudson Henry, Pulaski Academy
• Latavion Scott, Bryant High School
• Cannon Turner, Arkadelphia High School
• Brandon Thomas, North Little Rock High School
• John David White, Pulaski Academy
• Samy Johnson, Little Rock Catholic High School
• Treylon Burks, Warren High School
• Derrick Wise, Fort Smith Northside High School
• Darius Bowers, Fayetteville High School
• Peyton Holt, Greenwood High School
• Mekel Kentle, Joe T. Robinson High School
• Oscar Adaway, North Little Rock High School
The Landers Award has been presented to an outstanding high school football player every year since 2000 for a total of 19 years.
Past winners are:
• De'Arrius Howard of West Memphis, 2000
• Reed McKinney of Warren, 2001
• Landon Leach of Russellville, 2002
• Peyton Hillis of Conway, 2003
• Darren McFadden of Oak Grove, 2004
• Damien Williams of Springdale, 2005
• A.J. Whitmore of Nashville, 2006
• Tyler Wilson of Greenwood, 2007
• Spencer Keith of Pulaski Academy, 2008
• Michael Dyer of Little Rock Christian, 2009
• Brandon Allen of Fayetteville, 2010
• Fredi Knighten of Pulaski Academy, 2011
• Drew Morgan of Greenwood, 2012
• Zach Launius of Cabot, 2013
• Ty Story of Charleston, 2014
• LaDarius Skelton of Pine Bluff, 2015
• Taylor Powell of Fayetteville, 2016
• Connor Noland of Greenwood, 2017
Watch the special 30-minute KATV broadcast here.